回鍋肉

(huí guō ròu)

回鍋肉, lit. "return to pot meat," is usually translated more poetically as "twice-cooked pork." As the name would suggest, it is pork belly that has been boiled and then stir-fried. I used to dislike the texture of the fatty portions of pork belly, but just like pretty much everything else, I've come to appreciate it more after I've cooked it. When I saw some pork belly at Panda Supermarket, my mind immediately jumped to braised pork belly, but I got lazy the first night and decided to make this dish instead.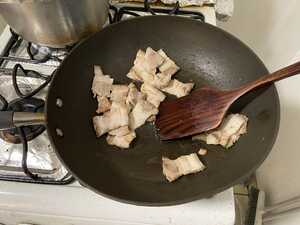 Typically speaking, one stir-fries the pork with leeks, but I just used scallions instead.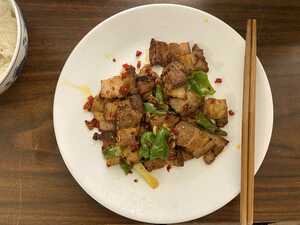 I made twice-cooked pork a few more times. This is a very rich and tasty dish.