红烧肉

(hóng shāo ròu)

红烧肉, lit. "red braised meat," is a famous Chinese dish of braised pork belly. I first made this with a college friend (and temporary roommate), who was quite fond of the dish. Apparently, this was one of Mao Zedong's favorite dishes as well.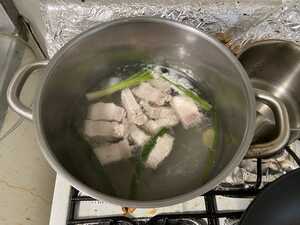 Growing up, I didn't really like the fatty portions, but I now do appreciate their texture and richness. Of course, all things in moderation!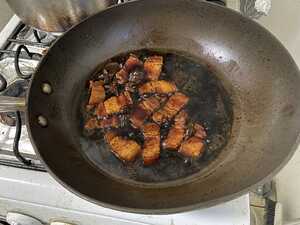 It does take some time to make, but it's not terribly difficult. You can also speed up the process with a pressure cooker, as my friend usually did it. I prefer just using the wok.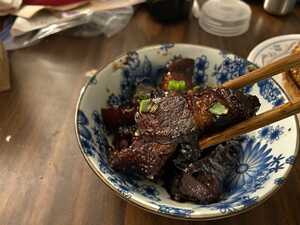 You may be able to see this in the pictures above, but another nice trick is to re-use the water from blanching the pork as a lightly-flavored pork soup. These are the kinds of things you learn to do as a college student!
I also once made this dish for the 2021 ACF Christmas Party potluck, where it was apparently reasonably well-received.