A (Trivial) Mistake in the MDN Web Docs?
For the Javascript function String.prototype.split(), the MDN web docs give the following interface:
Curiously, they also make the following claim: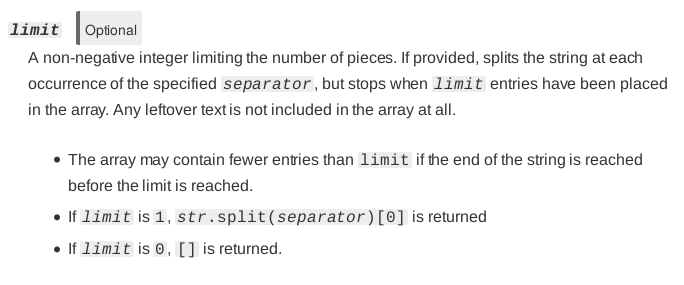 Notice in particular the center bullet: if limit is 1, str.split(separator)[0] is returned. I know Javascript has a messed-up type system, but this does seem to be a "type error." Indeed, you can try the following in the console of any browser:
This is clearly just a silly typo, but it's always neat to spot one out in the wild. I've archived a version of the original page that has this text.
---
Update: I made an issue in the MDN Github repository, but apparently it's already been fixed. Loading the page now shows that it is indeed correct. Well, one day I'll find a typo that no one has found before. If I'm lucky, it'll be in one of Knuth's books!