Boston 2022 (Spring Break)
I had originally wanted to go bikepacking on the GAP from Pittsburgh to DC over spring break, but early March really isn't the optimal time for this trip. The weather is a little too cold for comfort when camping by the side of the trail, and the Big Savage Tunnel isn't open until April. So I instead ended up going to Boston over spring break, staying at Evan's place in neighboring Lexington.
Evan, Charlie, and I set out by car from Pittsburgh on Friday a little after 5pm; we arrived in Boston sometime after 4am, having driven straight through the night. We stopped for dinner at State College, where we had some surprisingly good Chinese food. Being the only car on the road somewhere in the middle of upstate New York is a little spooky, but it was a fun drive.
I spent Saturday mostly recovering from the journey—I slept for around twelve hours, punctuated by a lunch break. (I was the driver on the way there, and I was therefore unable to sleep in the car.) On Sunday, I went to Evan's church, the Chinese Bible Church of Greater Boston.
I spent Monday in Boston itself, mostly meeting friends. I got to see Selena, Steven, and Lucy; this took up pretty much the whole day, since I met with each of them separately. As a result, I didn't get to spend a lot of time touring the historical places in the city, but I thought it was a worthwhile trade. Plus, I had visited many of the notable historic sites during my previous visit to Boston, about five years ago. I also didn't do my homework: several places, such as the USS Constitution and the Old North Church, were closed on Mondays. I did get to tour the Boston public library, which is quite nice.
I spent Tuesday in Salem. Of particular interest to alumni of Mrs. Ascari's tenth grade English class, I visited the House of the Seven Gables and the Salem witch trials memorial. It's kind of crazy how much stuff that I read in high school took place in this one particular town. I also fulfilled my New England dream of eating a lobster roll by the harbor, although I feel like it wasn't really worth the price.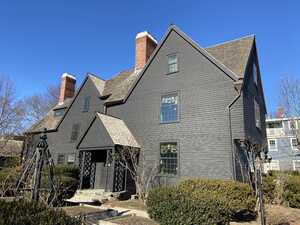 On Wednesday, I had dim sum with Evan and a local CMU freshman whom I didn't know. In the afternoon, I had originally wanted to visit Walden Pond, but when I got there, I found out that parking is $30 for out-of-state vehicles, so I beat a hasty retreat. I went instead to Minuteman National Historical Park, which is apparently the place where the Revolutionary War began. It started snowing, which made for some very pretty pictures. At night, Evan and I had dinner with Amy and Christian, two ACF alumni.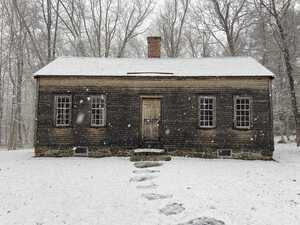 On Thursday, I drove down to Providence to visit Nelson, Michael, and Lucia at Brown. The conditions were perfect for skiing, but unfortunately I didn't have the time to go. Finally, Evan and I drove back to Pittsburgh on Friday. (Charlie had left early on a flight.)