Bikepacking to Ohiopyle
Date

August 25, 2020

Distance

154.62 miles

Location

Great Allegheny Passage
I'd been thinking about doing a bikepacking (like backpacking but on a bicycle) trip all summer, but I finally decided to take the plunge at the end of the summer. It took a bit of scrambling (and an Amazon order sent to the wrong address) to gather all of the equipment I'd need for cycling and camping, but between REI and Amazon, I managed to get everything together in time to squeeze in a trip before the start of school. I set out for Ohiopyle state park (which, despite the name, is actually in western Pennsylvania, not in Ohio) at dawn on August 25, 2020.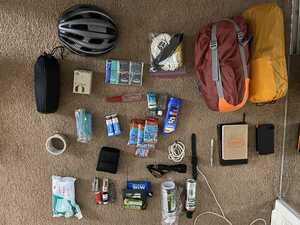 The weather that day was very brutal, but due to time constraints (namely the start of school next week and a few orientation events that I had promised to help out with), I could not reschedule. In the morning, I ended up riding through a thunderstorm. In the afternoon, the weather cleared up a bit, but the rain had already done its damage, and the trail conditions were absolutely nasty. Here are some pictures that I took when I stopped for a bathroom break, just to illustrate what I mean by "nasty".
The riding itself wasn't too bad. Originally, my contingency plan was to stop at a campground in Connellsville (about 60 miles from Pittsburgh) if I couldn't make it all the way to Ohiopyle (about 80 miles from Pittsburgh). However, I felt pretty good upon arrival at Connellsville, so I decided to press on to Ohiopyle. Unfortunately, I did make one terrible mistake on the trip there: I decided to stop at the Arch Cafe in Connellsville for lunch. From the name, I assumed that it would be a quaint little cafe where I could get maybe a nice sandwich, some baked goods, and perhaps even a cup of tea to relax. Instead, it was a very slow-moving place with more of a standard American restaurant menu. Even worse, this was the kind of place where all of the staff were wearing their masks around their chins, which made me quite uncomfortable.
After finally getting my food, I ate it on the curb. The food itself tasted quite terrible; I suppose some of the blame falls on me for my order, but what was the absolute worst was their portion size. Normally I'd be fine with getting a generous helping of food, but I couldn't stuff myself because I had around 20 miles of cycling left that day, and I couldn't take the leftovers with me because storage space on my bike was quite limited.
Anyway, after this unfortunate lunch experience, I proceeded on my way to Ohiopyle. I was a little nervous about this segment, since I knew it was mostly uphill and I was carrying quite a lot of weight between my tent, sleeping bag, clothes, etc., but it turned out not to be a very big deal. The Great Allegheny Passage is pretty, but it does get monotonous after a while. Most of the coolest sights (the big tunnels and viaducts) are actually beyond Ohiopyle, but unfortunately my schedule did not permit a visit. There were a couple of neat abandoned structures by the trailside, but I did not go exploring because I wanted to get to my destination as quickly as possible. I did recall seeing a rather beautiful rail (?) bridge near the border of Allegheny County, but unfortunately I did not take a picture.
When I arrived in Ohiopyle, I actually reached the campsite connector before getting into the town itself. I knew I needed to get into town eventually (to have dinner, stock up on supplies, and of course get the iconic experience of rolling into town over the bridge), but I decided to claim my campsite first so that I could unload all the weight from my bike as soon as possible. The campsite connector is quite annoying; there's a nontrivial grade, and the surface is covered with loose gravel. After significant effort, I managed to move my bike the roughly quarter mile distance to the campground, and I set up my campsite.
Finally, I went back down and headed into town. Here, my efforts were rewarded with not one but two absolutely spectacular bridges, each offering stunning views of the rapids.
After a long day of riding (75.7 miles), I treated myself to an ice cream and some dinner. The dinner was overpriced (well, it's a tourist town) but perfectly serviceable. I met a nice family that had come in by bike from Connellsville that day as well; they were somewhat surprised to learn that I had come all the way from Pittsburgh.
The next day, I rested my rather sore rear end and did not do any cycling. Instead, I managed to get in a decent ten miles of hiking around the park. Probably my favorite part was going to a somewhat secluded waterfall and getting to wade in the river. I had actually come to Ohiopyle before on a hiking trip (although by car, not by bike) and gone to the famous Cucumber Falls, but that site is quite crowded with people. In the morning, I went hiking through a narrow trail in the woods and came across a much more inaccessible waterfall, guarded by some rather steep walls and deep in the woods. This was very nice and quiet, and I took a "shower" here. I couldn't even hear anyone else in the woods.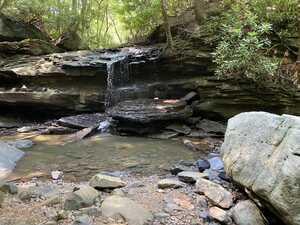 I wanted to go to Falling Water (actually, I had the Lego Architecture model of Falling Water growing up), but when I called they said that the connecting road was not very suitable for bicycle traffic, so I decided not to go. I think I could have gone if I had really wanted to, but the hiking was pleasant enough.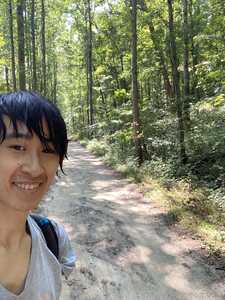 In the evening, I purchased some firewood and managed to get a small campfire going. Unfortunately, I did not bring enough cash (or at least not in small bills) to buy kindling as well, so I had to split my fuel wood with a knife. I don't think my fire was very good (is a lot of maintenance normal?) and they did not sell marshmallows in personal-sized portions, but I still enjoyed it (who doesn't enjoy a campfire?). I also roasted a potato that I had brought; I had originally wanted to bring yams, but I discovered the night before I left that my beautiful Japanese yams had grown moldy, so I brought a potato instead.
Finally, after spending another night in the tent, I packed up and headed back to Pittsburgh the next day. I had gotten quite lucky with the weather so far; it was supposed to rain during the whole trip, but I actually hadn't seen any rain after that thunderstorm on the first day; my day of hiking was blessed with absolutely perfect weather. However, there was supposed to be some rain in the afternoon, and I wanted to get as much of my return journey done before the trail started to get muddy, so I set out as quickly as possible.
Because the connector from the trail to the campground was so annoying, I decided to try taking the road back to town instead. (That is, I went on the road that cars normally take to the campsite.) I almost immediately regretted my decision: the roads were clearly not designed for bicycles, seeing how many hills there were, and climbing hills with heavy gear is no fun. To make matters worse, it started to shower lightly—not enough to make the trails too muddy, but enough to make the general mood a little worse. After some struggle, I finally managed to make it into town, where I had a breakfast consisting of a muffin and a bagel sandwich, both of which were excellent. Because of this little detour, the trip back was actually a tad longer, at 78.9 miles.
I then headed back along the Great Allegheny Passage the same way I came. The riding was fairly uneventful. I stopped at Boston (the one in Pennsylvania, not Massachusetts, of course) for lunch at a quaint little shop catering to trail users. The service was a little slow but the food excellent, so I won't complain. I got back to my apartment in Pittsburgh just before 3:00 pm, a day earlier than I had planned (because I had gone straight to Ohiopyle without staying the night at a campsite in between, but I also spent an extra night resting in the park). It was overall a great trip, and I wish that I'd gotten into bikepacking earlier during the summer so that I could take more/longer trips.