葱油饼

(cōng yóu bǐng)

葱油饼, lit. "scallion oil bread," is one of my favorite dishes that my grandma makes. I'm very fortunate that she now regularly sends me several loaves of hers, but in between these "relief" shipments I decided to try my own. My grandma makes a variant with leavened dough and adds some other flavors, but that seemed a bit too complex to start out with, so I used unleavened dough.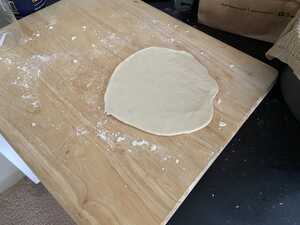 My version is much less oily than what is typically served at a restaurant. In my opinion, the usual restaurant version is way too oily.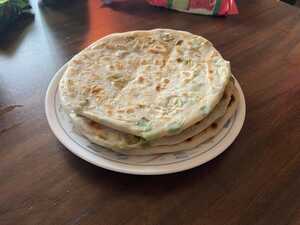 Here are some more detailed pictures of the process, during another attempt at 葱油饼: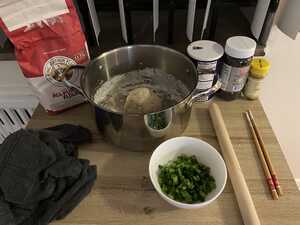 Cooking it is simple: just add a bit of oil to your wok and fry until it's done, flipping in the middle. You might burn the first few, but you'll quickly figure out the right amount of time to cook them.