珍珠奶茶

(zhēn zhū nǎi chá)

珍珠奶茶, or bubble tea (at least where I grew up…in some regions of the US, they apparently call it "boba") is pretty popular in America. I could just go down the block to Fuku Tea or even further to some of the fancier shops in Squirrel Hill…or I could have some fun making an inferior bubble tea at home. I did not have any black tea, so I just used the standard Chinese green tea leaves that I normally use for brewing hot tea. The resulting drink was much lighter in color, but that was probably for the better, since my tapioca pearls were somewhat light in color, so they may have gotten lost in a darker milk tea.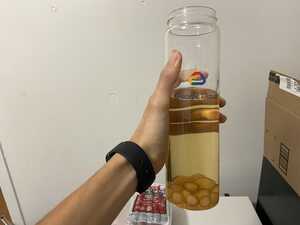 For the tapioca pearls, I figured that since I was going through the trouble to make my own milk tea, I might as well make my own tapioca pearls as well. I mixed tapioca starch and hot water at a 3:1 ratio until it formed a dough, and then I rolled the dough into small balls and cooked it in a mixture of boiling water and brown sugar. I may have accidentally made the pearls larger in diameter than my straw, but it didn't matter because my straw wasn't long enough to reach the bottom of my bottle anyway!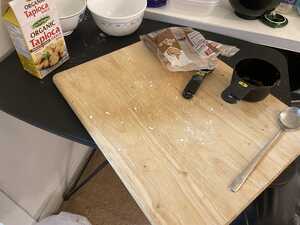 Overall, I think making bubble tea was a worthwhile experience to have, but the time spent was not worth the money saved in comparison to going to a bubble tea shop. Plus, my tea did not taste all that great, probably because I went light on the sugar.